Continuous Process Ovens (or Conveyor Ovens) are batch ovens that repetitively operate with a specific product traveling through them. It can easily be compared to an automated assembly line. The conveyor belt moving through the oven has a job to do and keeps on doing that job until the product is complete. This type of oven can produce a high volume, uniform product due to a consistent, regulated temperature as it passes through each chamber or zone.
Mike Jameson with JPW Industrial Ovens & Furnaces indicates that almost every continuous process oven that goes out our door needs some customization and is project-based driven.
Since customization tends to be the standard, when one is needed, JPW recommends planning ahead.
"In the conveyor oven world, these ovens are project, product and process-specific," Jameson adds. "These ovens are used to do one particular job whether it is curing or drying, for example, and that is it. A typical life cycle of a product used in a continuous process oven is about five years, some ten. So when considering the purchase, I always ask what the desired outcome of the oven is, what material will be treated, and how will the oven fit in the project's manufacturing process."
After these initial questions are answered, Jameson says the oven design, temperature requirements, and type of belt material can be easily identified.
Types of Applications and Ovens
These types of ovens can be used for various applications, including tempering, annealing, curing, pre-heating, drying, heat-shrinking, and heat-forming. They are also used in the aerospace, defense, fiber optics, wood and metal finishing, plastics, rubber, industrial processing, pharmaceutical, electronics, printing, and automotive industries.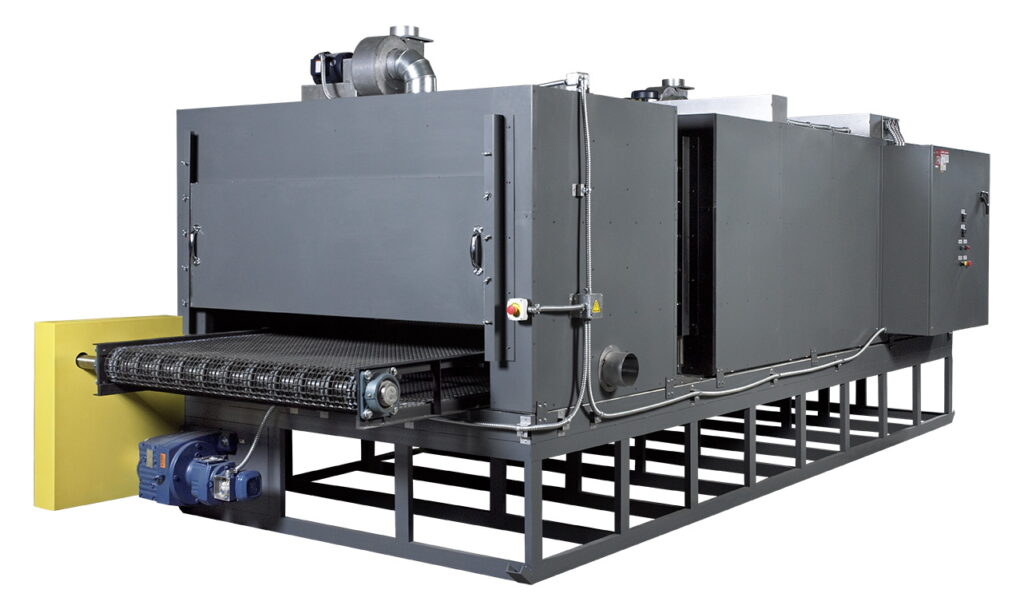 Types of continuous ovens include:
Flat conveyor belt
Chain conveyor
Ferris wheel
Carousel
Overhead trolley
Serpentine
Chain-on-edge
Spindle
Slat type
Strip cure
Print plate
Pusher ovens
Dog beams
Wash-draw furnaces
Multi-tier
With over 100 years of combined experience serving industrial markets with innovative oven products, design solutions, and competitive services, when planning the purchase of a continuous process or conveyor oven, let JPW help. We are skilled at finding solutions and crafting each oven to suit your unique needs while keeping you competitive in the marketplace.