Industrial Custom Ovens & Furnaces

JPW's industrial oven custom solutions line is designed to meet a wide range of heat-processing applications. We offer an assortment of options to meet our customer's specifications. Below, you will discover the standard and optional features of a JPW custom-built oven.
From internal size, external size, and (up to 1400°F) temperature to gas or electrically-heated ovens, we can create and produce the industrial oven you need. Sometimes after evaluating your unique oven requirements, one of our standard line models can be modified to meet your needs. Many of our most popular ovens are available for quick customization and shipment. However, if a one-of-a-kind oven is what you are looking for, we will certainly deliver.
We LOVE a challenge! Our industrial ovens can be customized to fit in a tight spot, meet an unusual capacity, accommodate a certain process, you name it! Whether you are looking for a batch, curing, drying, electrical, gas, high temperature or a vertical lift door oven, JPW Industrial Ovens and Furnaces can help.
Click here to fill out our custom industrial oven request form or give us a call for more information.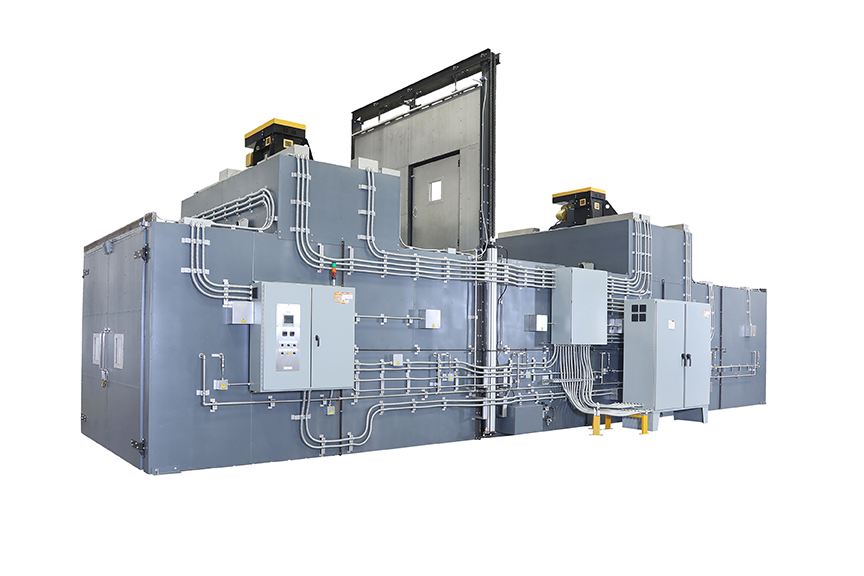 Standard Features
UL-approved 508A
Designed to NFPA 86
TEFC motors (totally enclosed fan cooled)- for harsh environments and long life
Controls – all digital, microprocessor, thermocouple input temperature controller
Circuit breakers on motor in lieu of fusing – easy troubleshooting , no fuses required for motors
Oven on switch – Illuminated
Heat on switch – Illuminated
Batch Timer – shuts heat off at the end of a timed cycle (on models with single set point controllers only)
SSR or SCR power controllers
High volume recirculation blowers or fans
Pressure differential switches – in the event of the loss of air the heating system will shut down
8lb density mineral wool board insulation
Voltage specific on all models 27 cuft and up only
Aluminized interior on all models 27 cuft and up only, the 3.56, 5.8 and 8 cuft models have stainless interiors
Painted exterior
Incoloy sheathed heating elements
Silicone gaskets (on 500°F models)
Ceramic cloth with stainless core (on 650°F models)
Pressure relief latches (on 27 cuft and up models only)
[Expand]
[Close]
Optional Features
Forced exhaust packages
Gas-fired – natural or propane
Programmable controllers (PLC)
Recorders
Solvent rated
Door switch
Shelves
Carts
Proportional dampers
Inert gas purge & process
Viewing window
Interior light
Stainless interior
Stainless sealed interior
Wall ports
Cascade controlling (two loops, typically one air and one product)
Class 1, Div 2
24/7 timer
Audible/visual alarm indicators
Vertical lift door
Custom designs
[Expand]
[Close]