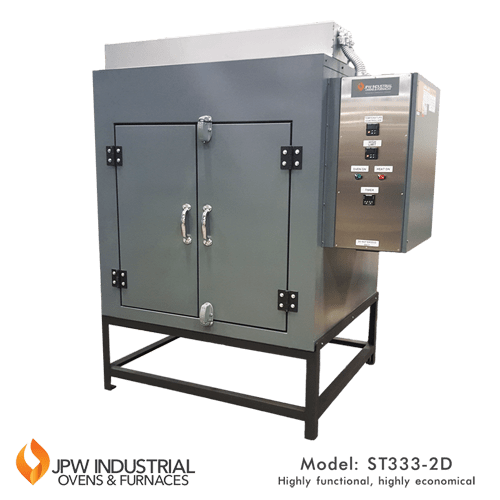 A standard in industrial ovens, the ST333 serves in many industries like aerospace, automotive, and pharmaceutical with numerous applications like: heat treating, curing, burning, ageing, drying, life testing and more.
Like much of JPW's work, this specific model has been customized specifically to meet client job requirements. The ST333-2D is a variation of the original that features double flush door that reduces door swing. The original ST333 features one door with a 36 inch door swing. Installing double doors allows the oven to operate with in smaller spaces with an 18 inch door swing.
Even with specific client customizations, a standard model like the ST333, able to be modified by JPW quickly with a fast delivery deadline. The ST333 is a versatile industrial oven for any manufacturer large or small.
The ST333 has been specially crafted by JPW Industrial Ovens & Furnaces to be thicker, stronger, and more durable than competing models. Available in both low-heat and high-heat and able to be equipped with electrical or gas heating. With proper use and maintenance, the ST333 can last a lifetime.
Contact JPW today to receive more information on the ST333-2D or request a quote.