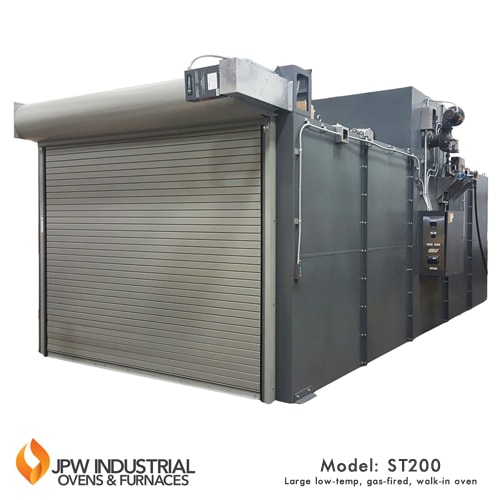 The ST2000 is a low-temp gas-fired walk-in oven manufactured for a Massachusetts based company. This oven will be used for drying materials for radar equipment in the aerospace industry.
This unit is 10 feet wide x 8 feet high and 25 feet long for a total of 2000 cubic feet. Products are held for treatment inside the chamber on high-quality steel racks. It also features directional airflow which reduces cycle times. In designing the ST2000, engineering experts at JPW customized the door or the oven to meet the restrictions of its installation location. By working together with other local companies, JPW was able to have a rolling door installed in place of a standard vertical lift door. This door allows for the oven to be installed in a location with a lower ceiling. Instead of a door panel that lifts vertically, the door rolls up around itself.
This specific ST2000 model is just one of several ovens being planned by the client company to replace more inefficient models and JPW looks forward to a long-lasting relationship of providing high-quality industrial ovens with them. JPW offers versatile solutions like this for all their products and are established enough to partner with other companies in providing an economical and efficient custom solution.
Contact JPW today to receive more information on the ST2000 or request a quote.