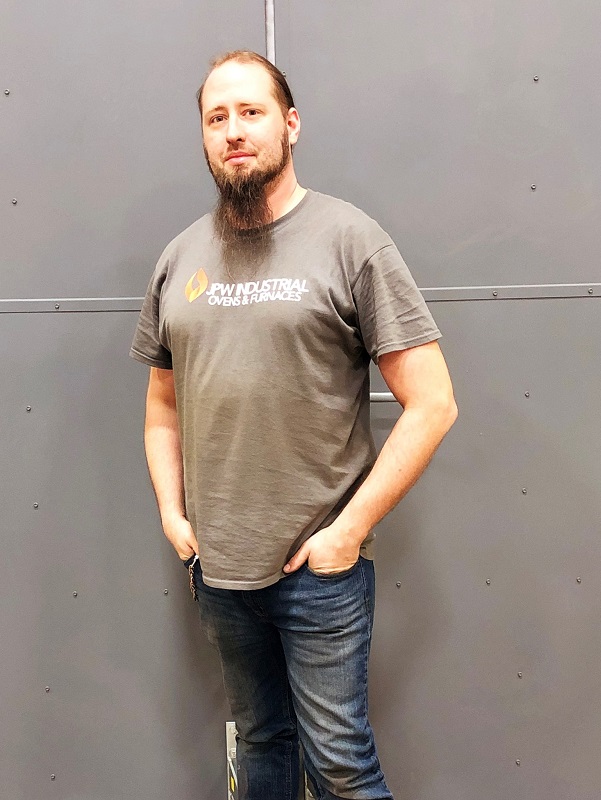 As the last person to inspect your product before it is transported to you, Walt makes sure it is packed and shipped according to customer specification, it is appropriately touched up, and all additional oven accessories are included.
He is JPW Ovens & Furnaces final review of your oven.
Walt Davis has been with JPW for seven years. He began in the assembly area but quickly moved to shipping. In addition to providing a final inspection of each oven and furnace that leaves their Trout Run facility, he also carefully loads every product onto a truck using an overhead crane or forklift.
Walt says the best thing about working for JPW besides the people is the ability to learn new skills. He was well-versed in welding before his arrival but did not know much about the manufacturing process. Now, he is the one teaching new team members about it.
Born and raised in Rose Valley, Pennsylvania, Walt is a graduate of Montoursville High School and is a self-taught musician (guitar, bass, and drums). He also enjoys singing and owns a small in-house recording studio.
"I can make songs just as good as they are on the radio," he remarks. "And 'in-house' literally means in my house."
When asked what is one thing no one would know about him he indicated that he has a photographic memory.
Walt adds, "It is pretty unique and a talent I sometimes use here at JPW. When someone can't find a tool, I am the go-to guy that usually knows where it is."
So, when your oven or furnace arrives, now you know who the last person to see it, inspect it, and load it was – Walt Davis.