Five years ago, Jeremy Bickel began working at JPW Industrial Ovens and Furnaces as a temp in the assembly department. Not too long after, he moved into a permanent position in the electrical department where he is now a test technician at Plant 2.
Before joining JPW, most of Jeremy's career was spent building and remodeling in the construction industry.
"I also did a short stint in the tire business after graduating high school," he remarks. "But I knew it wasn't something I wanted to do for the rest of my life."
Jeremy says he loves his job at JPW and works with the best team. He adds, "You spend a majority of life at work, so you need to like what you do and the people you work with."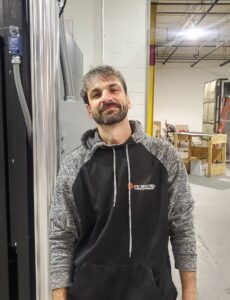 While he was born in Williamsport, his family frequently relocated because his father was in the Marines. When his father left the military, they made Blossburg their home, a small borough located in Tioga County.
But something drew him back to Williamsport.
Bickel adds, "I always had a feeling I would return and make roots here."
He has been married for twenty years and has two children. Recently, his oldest began working at JPW as he saw how much his father enjoyed his job, so he wanted to follow in his footsteps.
When Jeremy isn't testing the ovens at JPW, he enjoys fishing, woodworking, and spending time with his family.