Born and raised in Northern California, Chelsea Deknecht has decided to call the Williamsport region her home.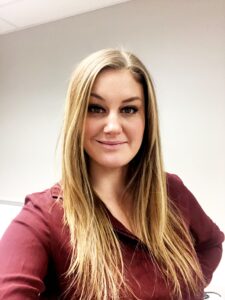 Just over seven years ago she moved across the country, and four years ago landed a position with JPW Industrial Ovens and Furnaces. While her title is Junior Accountant, Chelsea wears many hats with the company.
In addition to overseeing accounting and purchasing decisions, Chelsea manages the marketing and communications efforts for JPW.
"When it comes to marketing, I can typically plan and schedule out a year in advance," she says. "But there are days where I certainly need to multi-task – bouncing from spreadsheets to placing ads. Every day is different."
Chelsea truly enjoys coming to work every day.
She adds, "I am fortunate to be a part of an internationally known, close-knit, family-owned business right here in Lycoming County."
When Chelsea is not working for the small business launched in 2004 by owners Mike Jameson, Mike Paternostro, and Tim Wagner, she usually is spending time with her husband, step-daughter, and newborn daughter. Chelsea also likes to read and take a cardio-kickboxing class when her schedule allows.