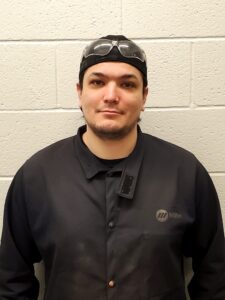 A graduate of the Pennsylvania College of Technology with an associates degree in welding, Philip Welker has been with JPW Industrial Ovens and Furnaces for nearly five years. He is a welder at the Plant 2 location.
"While I weld every day," he says, "I am learning new ways, better ways to do my job as time goes on."
Philip has called the Williamsport area home most of his life and is still very close with his family.
He adds, "When not working at JPW, I spend a lot of time with my girlfriend (of seven years), my mom, dad, two sisters and younger brother."
If Philip isn't found welding at JPW or spending time with his family, you can catch him watching professional wrestling or playing video games.
Two things you may not know about Philip are that he fixes broken video game consoles and controllers and is an avid audiobook listener.
"I have never been a reader, but I thought I would give audiobooks a try," he says. "I was immediately hooked and have listened to about thirty over the past year or so."
If you are visiting the Plant 2 location, don't forget to stop by and say hello to Philip.