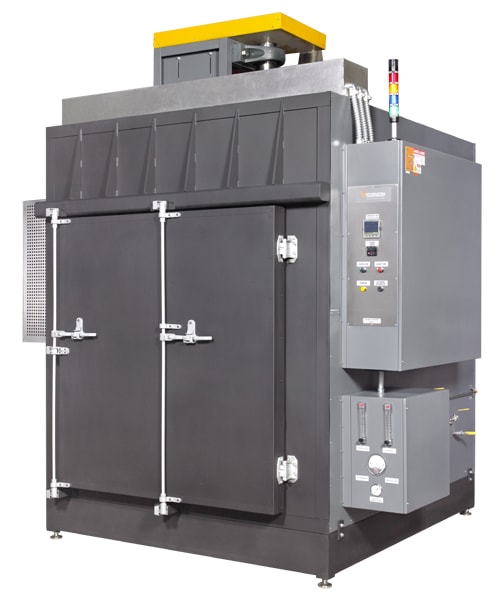 The HT446IG is being designed by JPW for a worldwide specialty alloy manufacturer. This oven is high-temp inert gas cabinet oven. The HT446IG is designed to hold large spools of wire with a reinforced floor capable of holding 6000 pounds of materials – made to match the customer's request.
The model utilizes 1200°F in the heat-treating of wire, annealing the materials and giving them a shiny bright finish. It is engineered with a vertical down airflow that will cover the chamber evenly ending at the bottom sides.
This oven also operates with inert gas, maintaining an atmosphere inside the oven that is low on oxygen by replacing it with an inert gas. The chamber runs under a positive pressure of a ¼ inch to ½ inch of PSI. JPW's leak point design adds safety and reliability to the inert gas oven. A designated leak point makes the oven operate more safely and efficiently. JPW also designs their models with a strongly sealed chamber and robust build that you can see and feel during operation.
The HT446IG also includes many electronic features. It has also been designed for installation of an O2 sensor by the client that will not allow the unit to run until O2 is properly reduced. It also features a eurotherm nanodac controller/recorder. This allows the user to program settings, make a profile for each process and record up to four channels such as product temperature or air temperature.
Contact JPW today to receive more information on the HT446IG or request a quote.