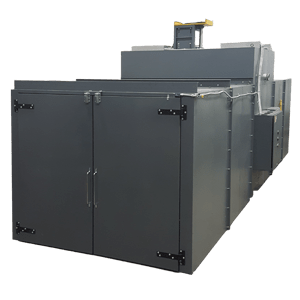 JPW recently provided a new ST9832 walk-in oven for a Massachusetts-based composite manufacturing company. This oven is designed to be a very large oven – 9 wide ft x 8 ft high and 32 ft long. It is planned to be used for processing parts for the aerospace industry.
By customer request, this large oven was engineered to be electrically heated with 135KW of power and will operate at 150F throughout the large chamber. This oven is designed specifically for large products that will undergo very low heat applications.
In the world of industrial ovens, this is a simple and efficient build that serves a single purpose. Yet, it still maintains a high standard of quality that JPW puts into all their products.
Contact JPW today to receive more information on the ST9832 or request a quote.