The ST424A industrial cabinet oven is designed to operate at 650F maximum temperature. Standard features include internal circulation fan, CRS exterior painted machine gray, aluminized interior, UL listed control panel, and electronic temperature controller.
INSIDE DIMENSION
48"W x 24"D x 48"H
TEMPERATURE RANGE
Up to 650°F
UL LISTED CONTROL ENCLOSURE
JPW Industrial Ovens & Furnaces sets itself apart from the competition by UL Listing every control enclosure on all industrial ovens. Added comfort without the cost!
AIRFLOW
Reduce cold spots and count on even airflow across the chamber. Our Industrial Ovens come with airflow in a variety of selectable patterns.
TEFC CIRCULATION MOTOR
JPW Design uses Totally Enclosed Fan Cooled (TEFC) motors on all of our industrial ovens. TEFC motors are made for harsh conditions and are built to last.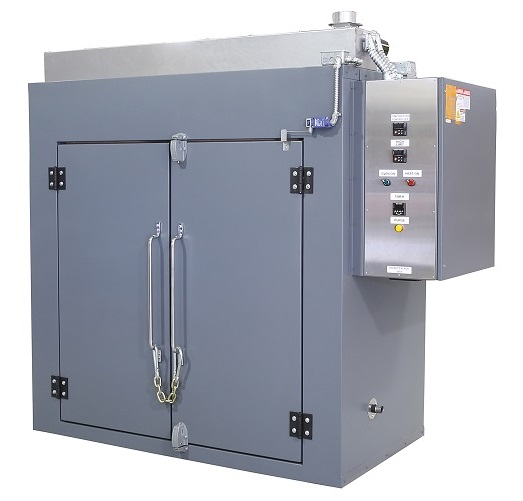 STANDARD FEATURES
UL Listed control enclosures
Designed to NFPA 86
TEFC motors (Totally Enclosed Fan Cooled) — For harsh environments and long life
Controls — All digital, microprocessor, thermocouple input temperature controller
Circuit breakers on motor in lieu of fusing — Easy troubleshooting and no fuses required for motors (IN US ONLY)
Oven on switch — Illuminated
Heat on switch — Illuminated
Batch Timer; Shuts heat off at the end of a timed cycle (on models with single set point controllers)
SSR or SCR power controllers
High volume recirculation blowers or fans
Pressure differential switches — In the event of the loss of air, the heating system will shut down
8-pound density mineral wool board insulation
Voltage-specific
Aluminized interior
Painted exterior
Incoloy sheathed heating elements
Ceramic cloth with stainless core
Pressure relief latches
OPTIONAL FEATURES
Forced exhaust packages
Gas fueled — natural or propane
Programmable controllers
Recorders
Solvent rated
Door switch
Shelves
Proportional dampers
Inert gas purge & process
Viewing window
Interior light
Stainless interior
Stainless sealed interior
Wall ports
Cascade controlling (2 loops, typically one air and one product)
Class 1, Div 2
24/7 timer
Audible and visible alarm indicators
Vertical lift door
Custom designs
Disconnects
Pass-through doors
Stand
Extra KW
And, of course, every one of JPW's ovens comes with unmatched customer service.  When you purchase one of JPW's products, you receive more than just an industrial oven or furnace. You receive our commitment to quality and service – always being available to answer any questions you may have before and after the purchase.