JPW's cabinet ovens are designed to meet your most demanding needs. Our ST323 industrial cabinet oven is strongly relied upon in a range of industries including pharmaceutical, chemical, healthcare and technology. Its heavy-duty construction and exceptional performance along with a variety of airflow patterns and optional equipment provide the right solution for your heat processing requirements and are designed for easy loading and unloading.
The ST323 industrial oven is a low-temperature oven used for curing, preheating, drying, aging, and testing. This specific model oven is fully-insulated all the way around and can be safely placed on any surface for use. Stands for this oven are also available to purchase.
TEMPERATURE RANGE
Up to 650°F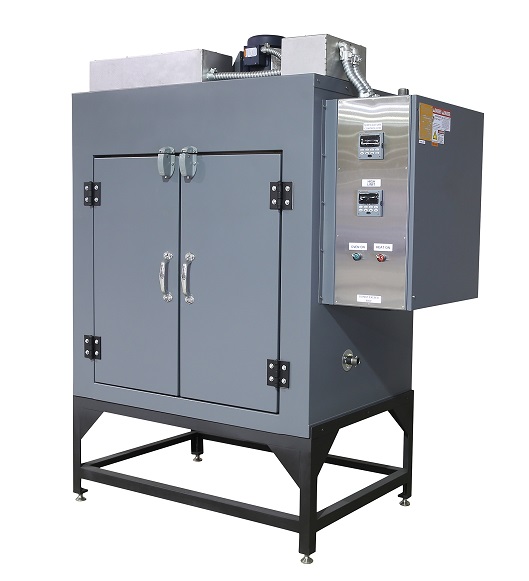 APPLICATIONS
Curing
Mold preheating
Drying
Aging
Electronics
Shelf Life
DIMENSIONS
Internal: 36W x 24D x 36H
External: 67W x 35D x 63H
EXTERIOR
Painted Machine Gray
INTERIOR
Aluminized Steel
CIRCULATION SYSTEM
One 18″ 4 blade fan generating 1200 cfm
Direct drive motors
Totally Enclosed Fan Cooled (TEFC)
Custom-built airflow
DOORS
Double Door
Pressure relief latches
HEATING SYSTEM
9 KW of heat
Seamless tubular elements
Controlled by solid state relays
ELECTRICAL
Single or Three Phase
High limit for safety
CONTROL PANEL
Main power switch
Heat on/off switch
Controller
OPTIONAL FEATURES
Stand
Disconnect box
Shelving
Forced exhaust
Recorder
Stainless interior
Controller
And, of course, every one of JPW's ovens comes with unmatched customer service. When you purchase one of JPW's products, you receive more than just an industrial oven or furnace. You receive our commitment to quality and service – always being available to answer any questions you may have before and after the purchase.