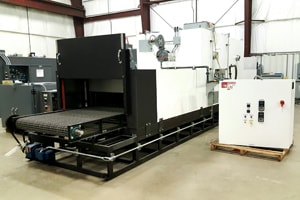 Onsite Wheel Repair, an automotive care provider, uses JPW industrial ovens for their heating solutions. Purchasing their new JPW oven has been a major upgrade for them as they seek to greatly increase production and grow their company nationwide.
JPW was able to design and build a custom conveyor oven for Onsite Wheel Repair in a matter of 12 weeks – a relatively short time frame in the oven industry.
Onsite Wheel Repair had done their research, and began their product search with three different companies including JPW. When a competitor positioned their product at a lower price, they still maintained their interest with JPW because of the level of personal interaction and quality of their work ethic. The more they interacted with JPW, the more they realized JPW was the right fit for them. This is just another example of how JPW's higher quality, better build and larger capabilities are winning over clients in the industry.
Onsite Wheel Repair has ordered and is currently in the process of receiving their continuous conveyor oven from JPW and they plan on purchasing a second.