It's baacck!
We wanted to continue our Employee Spotlight series by introducing you to a member of our dedicated and passionate team.  Meet Jim Wall, an electrical and controls engineer, who has been with JPW for nearly 4 years.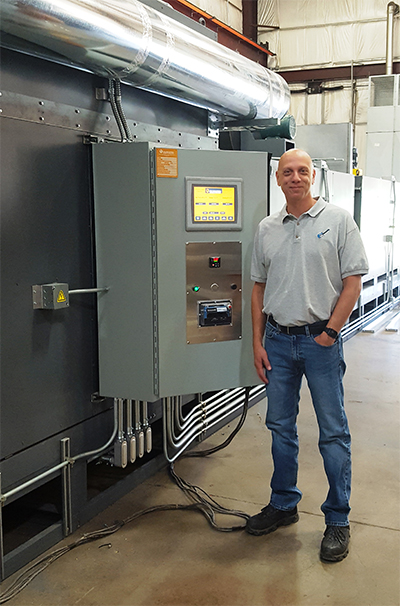 Where did you grow up?  High School? College? Previous jobs?
Hailing from Williamsport (born and raised), Jim graduated from Williamsport Area High School and began his post-secondary education at Penn College and finished at Wilkes University with a degree in engineering.
Before working for JPW, Jim worked for a lighting technology firm, as well as another oven manufacturer.
Wife?  Children? Pets?
He and his wife, Erin, are proud parents to an 8-year-old son, Zane, and three vizsla dogs, Zada, Zojo, and Zira.
Job at JPW
Jim says the best part of his job is the great team he works with, as well as the new challenges that come along with building custom piece equipment – types of ovens never produced before.
A typical day for Jim varies – one day he is focused on electrical design using Autocad software for a new oven and creating a customized oven manual and another day can be dedicated to receiving tech calls for new oven inquiries from customers.
What is one thing no one knows about you?
One thing you may not know about Jim is that he plays the guitar.  He noted,"In high school, I was either going to major in music or engineering.  I chose the latter but continued to play in a band until a few years ago.  While I absolutely love music, as I got older, working full time and playing until the wee hours of the morning – well, it just wasn't something I could do anymore."
About JPW Industrial Ovens and Furnaces
JPW Industrial Ovens and Furnaces, based near Williamsport, Pa., makes lab, bench, walk-in, cabinet, conveyor, and custom-made industrial ovens for a variety of industries including aerospace, automotive, composites, heat treating, finishing, general manufacturing and research. With more than 100 years of combined experience, JPW is skilled at crafting solutions to suit customers' unique industrial oven needs. For more information, visit jpwdesign.com.