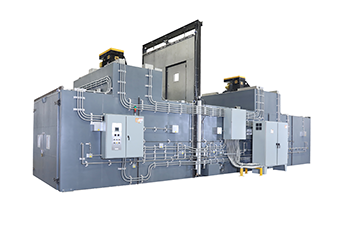 Composite curing ovens anneal, cure, dry and harden composite and synthetic materials. Primarily driven by the aerospace and aircraft markets, these ovens are commonly used to process and manufacture parts from landing gear to fuselage to wing sections. Most composite curing applications are unique.
With multiple design options available, composite curing ovens can be customized to meet your specific needs. These ovens are also available in various sizes, operating temperatures, and specifications.
Our highly experienced and knowledgeable team at JPW Ovens and Furnaces has manufactured and designed many composite curing ovens in various industries for nearly twenty years.
Contact JPW Ovens and Furnaces to discuss our industrial furnace options. Let us help guide you to make the best decision and find out if one of our modified standard units is right. Our commitment to quality is a given. It is our unmatched customer service that sets us apart.