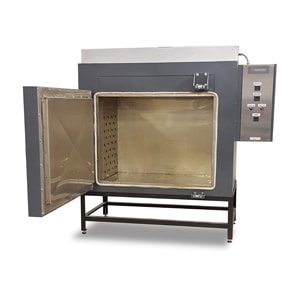 JPW's line of industrial cabinet ovens offers performance at a cost-effective price. The ST423 is not only a quality, cost-effective model, it is also versatile – designed intentionally to fit through a standard doorway.
Horizontal airflow keeps the temperature uniform throughout the chamber. It features a stainless steel interior which can reach up to 650°F, ideal for most curing, preheating, drying and aging processes.
The ST423 has a starting price of about $10,000, with additional options available. JPW Industrial Ovens has two ST423 models in stock, finished and ready to deliver upon purchase.
Contact JPW today to receive more information on the ST423 or request a quote.