ST6814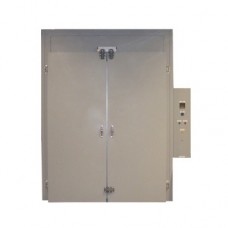 Price: $0.00
Ex Tax: $0.00
The oven is designed to operate at 300°F maximum operating temperature and includes the following special features:
4.5 inch" thick insulated walls, ceiling and a 3/16" Plate floor
1" Circulation fan
CRS exterior painted machine gray
Aluminized interior
UL listed Control Panel
Single Set Point electronic temperature controller and high limit
Batch Timer ( with audible & visual alarm with front panel reset)
Batch timer (end of cycle to shut heat down)
Exhaust 1000 CFM
Louvered adjustable side walls for pressure & return
Class A oven design
Purge timer set for 7 minutes
Rated for .9 gallons of solvent per batch
Modular construction to fit through 10" x 10" opening
Main terminal strip labeled to drawing for connection after assembly
Door opening of a full 72"
Designed to NFPA 86
Batch Oven Specifications:
| | |
| --- | --- |
| Effective Work Area: | 72" W x 96" H x 168" L |
| External Dimensions: | 164" W x 144" H x 181" L |
| KW: | 140 |
| Recirculation Fan: | 10,000 CFM; 7.5 HP |
| Electric: | TBD |
Oven Construction:
Outside:
Oven exterior to be constructed of heavy gauge carbon steel with structural members and painted machine gray. Oven to be built in modular sections.
Inside:
Oven interior to be constructed of Aluminized steel.
Circulation System:
1 36 inch" Dia fan and shaft, Horizontal airflow from right to left.
Heating System:
28- 5000 watt heater will be housed in the plenum to heat the air to desired temperature. The plenum will be top mounted and the air will be circulated in a horizontal pattern. The air will enter the chamber on the right hand side and return on the left hand side.
Doors:
The unit will have two doors held closed by FM approved slam latches. The door opening will be a full 72" with heavy duty Kason strap hinges.
Control Console:
The control panel for the oven will be on the right hand side of the chamber. The panel will house the electrical components and be NEMA 1 and UL rated.
Exhaust:
The unit will have a 1000 CFM exhaust on the top right of the unit. The exhaust will be on all the times.
Purge Timer:
The unit will have a purge timer set for 7 minutes. The timer will exhaust the air for 7 minutes before allowing the heat to turn on.
Class A Rated:
The unit is designed to handle .9 gallons of solvent per batch.
Uniformity:
The unit will meet the standard +/- 5 F to the maximum operating temperature of 300F in 805 of the empty chamber. The standard 9 point survey will be applied.
Write a review
Your Name:
Your Review:
Note: HTML is not translated!
Rating:
Bad
Good
Enter the code in the box below: