ST175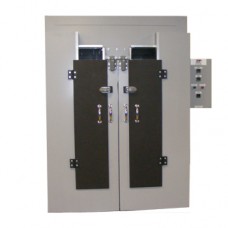 Price: $0.00
Ex Tax: $0.00
The oven is designed to operate at 500°F maximum temperature and includes the following special features:
4.5" inch thick insulated walls, ceiling and a 3/16" Plate floor
1" Circulation fan
CRS exterior painted machine gray
Aluminized interior
UL listed Control Panel
Single set point electronic temperature controller and a high limit
Double doors with door within door
Batch Oven Specifications:
| | |
| --- | --- |
| Effective Work Area: | 48" W x 75" H x 84" L |
| External Dimensions: | 75" W x 98" H x 96" L |
| KW: | 30 KW |
| Recirculation Fan: | 4800 CFM; 1.5 HP |
| Electric: | TBD |
Oven Construction:
Outside:
Oven to be constructed of heavy gauge carbon steel and painted machine gray
Inside:
Oven to be constructed of Aluminized steel.
Circulation system:
One 24 inch Dia fans and shaft, Vertical up airflow from bottom to top.
Heating system:
12- 2500W Incoloy sheathed heating elements will be housed in the plenum to heat the air to desired temperature.
Doors:
The unit will have two main doors and two doors within the main doors as requested per customer.
Control Console:
The control panel for the oven will be on the right hand side of the chamber. The panel will house the electrical components and be NEMA 1 and UL rated.
Exhaust:
There will be a natural 4" dia exhaust port on the right top of the oven.
Write a review
Your Name:
Your Review:
Note: HTML is not translated!
Rating:
Bad
Good
Enter the code in the box below: