TL222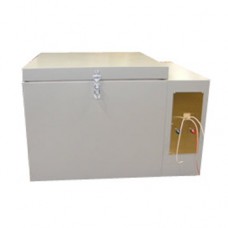 Price: $0.00
Ex Tax: $0.00
The oven is designed to operate at 500°F maximum temperature and includes the following special features:
3" thick insulated walls, ceiling and floor
1" Circulation fan
CRS exterior painted machine gray
Aluminized interior
UL listed Control Panel
Single set point controller
High limit
Top load design
Batch Oven Specifications:
| | |
| --- | --- |
| Effective Work Area: | 24" W x 2'4" H x 2'4" L |
| External Dimensions: | 55" W x 31" H x 38" L |
| BTU: | 3 KW |
| Recirculation Fan: | 400 CFM; 1/15 HP |
| Electric: | TBD |
Oven Construction:
Outside:
Oven to be constructed of heavy gauge carbon steel and painted a machine gray
Inside:
Oven to be constructed of Aluminized steel.
Circulation system:
A 10" Die fan will drive the air into the chamber from the right side plenum area. The air will be compound horizontal. All pressure and return walls will be louvered for adjustability.
Heating system:
1 - 3000W Incoloy sheathed heating elements will be housed in the plenum to heat the air to desired temperature.
Doors:
The unit will have one door held closed by a positive latch. The door will be a top load design and open from front to back. The door will be counter weighted.
Control Console:
The control panel for the oven will be on the right hand side of the chamber. The panel will house the electrical components and be NEMA 1 and UL rated.
Write a review
Your Name:
Your Review:
Note: HTML is not translated!
Rating:
Bad
Good
Enter the code in the box below: