ST333VL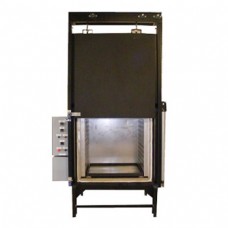 Price: $0.00
Ex Tax: $0.00
The oven is designed to operate at 500°F maximum temperature and includes the following special features:
4.5 inch" thick insulated walls, ceiling and floor
1" Circulation fan
CRS exterior painted machine gray
Aluminized interior
UL listed Control Panel
Electronic temperature controller
High limit
Batch timer
Batch Oven Specifications:
| | |
| --- | --- |
| Effective Work Area: | 36" W x 36" H x 36" L |
| External Dimensions: | 5' 6" W x 5' 5" H x 4' 0" L |
| KW: | 9 KW |
| Recirculation Fan: | 1200 CFM; 3/4 HP |
| Electric: | TBD |
Oven Construction:
Outside:
The oven exterior will be constructed of heavy gauge carbon steel and painted machine gray.
Inside:
The oven interior will be constructed of Aluminized Steel.
Circulation system:
One 18" Dia fans and shaft will be driven direct by a 3/4hp 1725 rpm TEFC motor. The airflow pattern will be horizontal from right to left. The pressure and return walls will be louvered for adjustability. The circulation fan will have a pressure differential switch in the event of the loss of circulation air the heating system de energizes.
Heating system:
6- 1500 Watt heaters will heat the air to the desired temperature; they will be located in the plenum located in the top of the unit.
Vertical Lift door (optional):
If the vertical lift door option is selected the door will have a vertical track, cylinder, roller chain, sprockets and pneumatic solenoids. The door operation will be controlled by a switch and e stop on the control panel.
Control Console:
The control panel for the oven will be on the right hand side of the chamber. The panel will house the electrical components and be NEMA 1 and UL rated.
Exhaust:
The unit will have a 4" dia natural exhaust port. Optional forced exhaust packages are available at additional cost.
Read more about the various industries the ST333 is used in.
Write a review
Your Name:
Your Review:
Note: HTML is not translated!
Rating:
Bad
Good
Enter the code in the box below: