ST103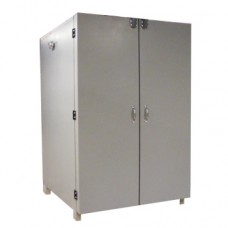 Price: $0.00
Ex Tax: $0.00
The oven is designed to operate at 500°F maximum temperature and includes the following special features:
4.5 inch thick insulated walls, ceiling and a floor with tracks on top of floor for carts.
1" Circulation fan
CRS exterior painted machine gray
Aluminized interior
UL listed Control Panel
Temperature controller and high limit
600 CFM exhaust
Purge timer with indicating light
500,000 BTU gas burner
70 air changes per minute
Includes manual with drawings, parts list, sequence of operations, etc
Batch Oven Specifications:
| | |
| --- | --- |
| Effective Work Area: | 52" W x 66" H x 52" L |
| External Dimensions: | 81" W x 110" H x 89" L |
| BTU: | 500,000 BTU |
| Recirculation Fan: | 4000 CFM; 5 HP |
| Electric: | TBD |
Oven Construction:
Outside:
Oven to be constructed of heavy gauge carbon steel and painted machine gray
Inside:
Oven to be constructed of Aluminized Steel.
Circulation system:
One 24 inch Dia fan and shaft, vertical up airflow from bottom to top. A pressure switch will shut the heat down in the event of the loss of air flow. The return diffuser will have adjustable louvers to control uniformity. The air will be entering the chamber at the bottom and return through the top diffuser.
Heating system:
A 500,000 BTU gas burner will be housed in the plenum located in the back of the unit, it will heat the air to the desired temperature. The burner will have an NFPA 86 gas train. The burner will have a digital flame error read out for trouble shooting.
Doors:
The unit will have two doors held closed by FM approved slam latches.
Control Console:
The control panel for the oven will be on the right hand side of the chamber. The panel will house the electrical components and be NEMA 1 and UL rated
Purge Timer:
The unit will have a purge timer. The timer will not allow the heat to come on until the timing cycle has counted down
Exhaust:
There will be a 600 CFM exhaust on the oven to remove the by products of combustion.
Controls:
Temperature controller,and high limit.
Uniformity:
The chamber will hold +/- 5F at 300F. This is in 80% of the empty cube at JPW. JPW can do testing and adjustments to get uniformity under loaded conditions if required. There will be additional cost to test under load.
Time to Temperature:
The unit will meet the specification of 300F in 10 Minutes under load from ambient conditions.
Write a review
Your Name:
Your Review:
Note: HTML is not translated!
Rating:
Bad
Good
Enter the code in the box below: