HT433IG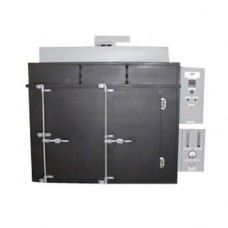 Price: $0.00
Ex Tax: $0.00
The oven is designed to operate at 1200°F maximum temperature and includes the following special features:
8" thick insulated walls,ceiling and floor
1" Circulation fan
CRS exterior painted machine gray
Stainless interior (fully sealed)
UL listed Control Panel
Electronic Programmable temperature controller
High limit
Inert atmosphere (flow meter, pressure gauge & delivery port)
Cool down jacket with forced exhaust
Inert gas purge
Unit stand
Batch Oven Specifications:
| | |
| --- | --- |
| Effective Work Area: | 48" W x 36" H x 36" L |
| External Dimensions: | 99" W x 96" H x 60" L |
| KW: | 30 KW |
| Recirculation Fan: | 1200 CFM; 1.5 HP |
| Electric: | TBD |
Oven Construction:
Outside:
Oven to be constructed of heavy gauge carbon steel and structural members and painted machine gray. The face of the unit will be painted a high temperature black.
Inside:
Oven to be constructed of Stainless Steel. The chamber will be welded & sealed.
Circulation system:
A 24" Dia fan and shaft, Horizontal airflow from right to left. All pressure and return walls will be louvered for adjustability. The circulation system will be monitored by a pressure differential switch in the event of the loss of circulation air the heating system will shut down.
Heating system:
12- 2500W Incoloy sheathed heating elements will be housed in the plenum to heat the air to desired temperature.
Doors:
The unit will have one door held closed by a two or three point positive cam latching system. The unit will have an inner door seal of ceramic fiber covering a stainless mesh core. The outer gasket will be silicone bullet shape to ensure a positive seal.
Control Console:
The control panel for the oven will be on the right hand side of the chamber. The panel will house the electrical components and be NEMA 1 and UL rated.
Inert Atmosphere:
The unit will have an inert atmosphere option. The unit will be supplied with a purge and process solenoid valve, regulator, filter, gauges for incoming pressure and chamber pressure and delivery system; the chamber will be welded and sealed to ensure a positive pressure in the chamber. A relief valve will also be supplied in the event the chamber pressure exceeds the desired limit. The unit will have a purge cycle before allowing the heat to come on.
Purge flow rate of 150 SCFH
Process flow rate of 120 SCFH
Assisted Cool down:
The unit will have an air jacket around the liner. There will be an intake damper and a forced exhaust that will come on during the cool down cycle. The dampers will be motorized and close during the heating cycle and open during the cooling cycle.
Read More about the HT433 heat-treating barrels for firearms.
Write a review
Your Name:
Your Review:
Note: HTML is not translated!
Rating:
Bad
Good
Enter the code in the box below: