C96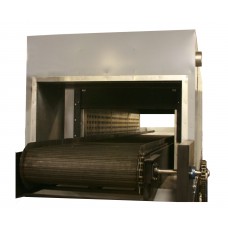 Price: $0.00
Ex Tax: $0.00
The Conveyor oven is designed to operate at 500°F maximum temperature and includes the following special features:
4.5" thick insulated walls, ceiling and floor
CRS exterior painted slate gray
Aluminized interior
Conveyor, Wire mesh 48"- with side plates- herringbone design support
Yokogawa UT150 single set point controller
Yokogawa UT150L High limit
Variable speed drive on conveyor to run .059 feet per minute
Silicone curtains on exit ends
Skid frame bottom support to raise belt to 52" from floor
Class B oven
CUL Control panel 575V/3/60
12"lg x 4"w heated zone-
1" air gap between heated zone and cooling zone
2" cooling zone- ambient forced air
2-30" dia circulation fans
Vertical down airflow
1- 18" cooling fan
1 ft take up end
Fused rotary disconnect
Access door on feed end opposite flanged connection
Batch Oven Specifications:
| | |
| --- | --- |
| Effective Work Area: | 4' 0" W x 2' 0" H x 15' 0" L |
| External Dimensions: | 6' 5" W x 9' 0" H x 16' 0" L |
| BTU: | 75 KW |
| Recirculation Fan: | 9000 CFM; 5 HP |
| Electric: | 575/3/60- 92 amps; 125 amp breaker recommended |
Oven Construction:
Outside:
The exterior of the oven will be constructed of heavy gauge carbon steel, structural members and painted a slate gray. The exit and feed ends will be painted a high temperature black
Inside:
The interior of the oven will be constructed of Aluminized steel.
Circulation system:
Two 30" dia fans and shafts will be driven by 5 hp 1725 rpm motors generating 9,000 cfm of recirculation air. The air pattern will be vertical down returning through the left.
Heating system:
30- 2500 watt incoloy sheathed heating elements will be housed in the plenum separate from the work chamber to heat the air to the desired temperature. The plenum will be top mounted
Doors:
The unit will have one silicone curtain one at the end of the heated zone.
Control Console:
The control console will be mounted on the left side center of the chamber. It will hold all the electrical components and be CUL listed.
Conveyor/indexing:
The conveyor belting will be 48" wide wire mesh belt with side plates. The drive end will have drive sprockets mounted on a 1.5" dia bearing shaft. The take up end will have sprockets mounted on a 1.5" dia bearing shaft with a tensioner at each side. The drive will be a variable speed gear box to achieve .059 feet per minute. The drive motor will be an inverter ready motor.
Base:
The oven will be mounted on a base that brings the working level of the oven to 52" from the plant floor the base will be insulated and be a skid design.
Write a review
Your Name:
Your Review:
Note: HTML is not translated!
Rating:
Bad
Good
Enter the code in the box below: