HT216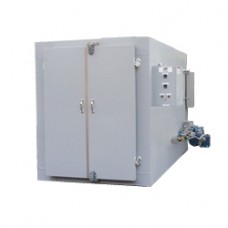 Price: $0.00
Ex Tax: $0.00
The oven is designed to operate at 1000°F maximum temperature and includes the following special features:
8" inch thick insulated walls, ceiling and floor with cart tracks (if required)
1" Circulation fan
CRS exterior painted machine gray
Stainless Interior
UL listed Control Panel
Electronic temperature controller and high limit
800,000 BTU burner
800 CFM Exhaust Blower
Batch Oven Specifications:
| | |
| --- | --- |
| Effective Work Area: | 48" W x 72" H x 108" L |
| External Dimensions: | 92" W x 92" H x 156" L |
| BTU: | 800,000 BTU |
| Recirculation Fan: | 7000 CFM; 5 HP |
| Electric: | TBD |
Oven Construction:
Outside:
Oven to be constructed of heavy gauge carbon steel and structural members, painted machine gray
Inside:
Oven interior to be constructed of Stainless Steel.
Circulation system:
1-30 inch Dia fan and shaft, Horizontal airflow from front to back. The circulation fan will have an airflow switch in the event of the loss of airflow the heating circuit will be de-energized.
Heating system:
One 800,000 BTU gas burner will heat the air to desired temperature. The burner will be located in the rear of the unit.
Doors:
The unit will have two doors held closed by FM approved slam latches.
Control Console:
The control panel for the oven will be on the right hand side of the chamber. The panel will house the electrical components and be NEMA 1 and UL rated.
Exhaust:
An 800 CFM powered exhaust will be located on the back of the unit. A six inch outlet will be provided to connect a stack. Stack requirements will be at a minimum 6" dia. The stack is recommended to not have more than one 90 degree elbow. The exhaust outlet temperature will be determined by the operating temperature. The exhaust blower will have an airflow switch in the event of loss of exhaust airflow the heating circuit will be de-energized.
Write a review
Your Name:
Your Review:
Note: HTML is not translated!
Rating:
Bad
Good
Enter the code in the box below: